We love hearing how our animals have enriched your lives. If you have a shelter story and photo you'd like to share, please email us at info@vol4animals.org.
I adopted a cat from your shelter on 7/21/19. Millie was previously a stray. She's come a long way and is gradually adjusting to being the only cat in my home, as well as spending time in my lap. Peg
Hello, just wanted to give an update on Hank. We have had him for just over a week and I think he has settled in quite nicely. Walking about 4 miles a day and he is going to bed around 8. (He actually gets up from the couch and goes into our bedroom to sleep on the bed...lol.) We have already fallen in love with him. Thank you again staff and volunteers for all your help bringing us together!
I just wanted to send an update. Whisper is doing really really well here. He has been so lovey and excited to be here!
I just wanted to write you guys and tell you how amazing Madori is doing in our home! She has become the real queen of the house and her and Diesel my other dog are getting along amazing! We are truly blessed to have her. Thank you so much
I just wanted to share an update on a kitten adopted from your shelter last year named "Nash." On April 14th it will be our double birthday and he will be a year old. Thank you for this blessing
I'm wanting to let you know how well Newbee (aka Johnny) is doing. He is an exceptional cat! Thank you for your dedication and the love you give to the rescues.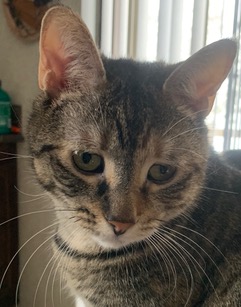 The first one was in September 2017 from Petco where the Animal Shelter has some of its kittens. I changed her name to Leah and she is the sweetest and is totally devoted to my husband.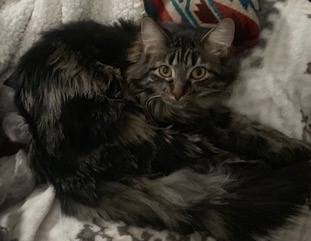 My second adopted kitty is Willow. I got her in September 2018 direct from the animal shelter. She is so very precious to us and she is our little girl. She's a tiny little one, but good things come in small packages.
Hello! My name is Marissa, and this past Sunday, I adopted Addi (formerly Comet), and I just wanted to share some photos of her enjoying her new home! Thank you so much for all that you do! Marissa and Addi
We adopted our cat Lilly 12/29/18. although her ppwrk said that she wasn't good with dogs, we took a chance bc our dog Poppy is very gentle. We introduced them slowly over a couple of weeks and before we knew it they were best friends. She is spoiled with love and we are so thankful to have her!
Hello there,
My daughter and I adopted Meg back in September. We wanted to let you know that she is doing great and fitting in well. It took her a bit to get used to our horses but shes pretty good around them now. Thank you!
Just wanted to share an update on Harley! We adopted her at the end of November 2018. She is so sweet and playful and absolutely LOVES other dogs and people. Also loves to tear apart tennis balls and steal peoples' spots on the couch :) Thanks for everything!
We wanted to update you on Skip (formerly Licorice, bob tail). He has adjusted so easily to our family. He's such a purr baby. He loves Chuck (orange and adopted from you a few years ago). Sarah
We just wanted to let you guys know that Jack , aka Ollie, will be here with us as of 6 weeks Monday!!! What a GREAT DOG he is!!! We are all 3 so happy that Jack found his forever home!!!!! Thank you guys!!!!! You are all so great!!!! Donna and Jim
I was just emailing you guys to let you know how much we love wink. We adopted her a little bit over a week ago and she is so different than she was in the shelter! She is so outgoing and so playful, but she does love her nap time cuddles on the bed! She is awesome with the dogs as long as they don't get too close and she is such a lovable kitten. She has even started to meow every once in a while. She also never stops purring. I just wanted to keep you guys updated on how well she's doing and how grateful we are.
Hello!, we adopted our newest member of the family, Selma on March 17, 2018. We wanted to update you guys on how Selma's been doing in her new home. Things Are going great! She loves her younger sister Silver, and has grown an attachment to Dad over the past couple months. She loves to run around and boogie especially in the snow, so we're going surprise her with her own back yard soon. She loves to sleep on her little perch on top of the stairs and loves to hang out on the coach. She LOVES her new home and we're glad she could give her one.
Just wanted to share an update on Munson. We adopted him on Oct 20 and he has been such a wonderful addition to our little family. He is very sweet and loves cuddles and attention. Munson loves hanging out with his big brother Oliver and playing with his big sister Lily. The 3 of them are always together. We are truly grateful for the opportunity to give this sweet little guy a great home and lots of love. Thanks again
Just thought I would give an awesome update on both our boys we adopted from the shelter. The black one, Midnight was adopted when he was 9 months old in March 2017 for a buddy to our older cat, who was also adopted from the shelter, back in 2013 Criss Cross he was orange and white. Sadly Criss passed on October 23, 2018. So we got our newest addition, Whiskey formly Gordon, a sweet 3 month old kitten. Needless to say Midnight and Whiskey are getting along great, Midnight loves he is now the big brother. Criss Cross taught Midnight well. Thank you for the wonderful boys!!
Here's Molly playing with her new toy in her new home!
Hi. Just want to let you know she is doing well. She has licked some of her hair off, but I am watching closely. She has a big bed and couch to sleep on, and is right by my side when I am in bed. Thank you for a sweet cat.
I just wanted to send an update on Bear, the small black lab mix from Tennessee, that I rescued almost 2 months ago. He is LOVING his new life in Buffalo. As they say, I'm not sure who actually rescued who.
Best, Shannon
The first time my husband and I saw Beara that was it. She was the best thing that ever happened to me. She completed our family.
Just wanted to let you know how well Lily (who now answers to Mandy) and I are getting along. Mandy has settled into her new home gracefully. She is smart and loving and I'm so lucky I found her. Perfect match! Thanks for your help with adopting Mandy. She has found her fur-ever home. Jenny
We are so happy to have Lucy in our lives. She is a fantastic dog! Thank you for what you do. Betsy
We adopted brothers Qwazi and Peso (yes we kept their names) 2 years ago when they were at Petco. What wonderful loving cats...they love everyone even new people! I remember our grandchildren meeting them for the first time and they came out to greet them...it was a wonderful thing to see. They are truly loved and we are very happy we have them both and they are very happy as well. Thank you for all that you do!
Good evening! I just wanted to share a couple photos of little Nash enjoying his forever home. He's very rambunctious. He LOVES his cat tree, toys that make noise and sitting on the windowsill at night. Thank you so much
I am writting you to let you know how amazing "Athena" is doing we have changed her name to Jenny and she is doing amazing. I can not thank you enough for the joy our Jenny brings to our lives thank you so much
Here's some Pictures of how River is adjusting to her new life as a Neilans. I thought you guys would enjoy these pictures just as much as I love having her in my life !!! Thanks again for all you guys do!!!
Snoozie aka Susannah is settling in nicely. She loves her walks and we are still learning about each other. She is a welcome addition to our family! Thank you!
Carol
I adopted Rupert over 3 years ago, and man did I get lucky. He is the most loving, playful and friendly dog I could've asked for. Not to mention smart - he picks up on new commands almost immediately. Everyone that meets him falls in love with him, and like his ad said when I bought him "his tail never stops wagging".
We adopted Ruger from the shelter just under 2 years ago. We were told he was difficult to adopt out because of his high energy and was difficult to handle. I think he just needed a loving family and a lot of attention. He is such a wonderful addition to our family and has turned out to be such a loving dog! Still full of energy though!! We could not imagine a day without him. Rescue dogs are the most loyal. We truly love him!!
On Christmas Eve a few years ago I adopted Rosie. Rosie was my constant 24/7 companion for many years on my retirement hobby farm. She progressed to be the friendly loving dog she is today. Health issues forced me to spend 6 mo at my daughter's home in PA and while there Rosie bonded to my daughter and her family and she now has a wonderful life and belongs there. I miss Rosie greatly; but I am grateful for the years we shared. Thank you for bringing us together, saving her life and enriching mine.
Hi Everybody!
I just wanted to let you all know how grateful we are for Archie!!!! He's doing very well here. I'm amazed at how quickly he's adjusting.
He and his new brother Drake are inseparable. They share toys and couches very well, and love running around in the snow outside. 12 year old Drake is a puppy again!
Thank you all so much for brightening our lives! Pete, Drake, and Archie
I love the Rockstar very much! He has so much energy for an 8 year old dog. He behaves so well. He gained much needed weight. The doc saw him again yesterday and was very happy with his health. A month ago he had an encounter with a skunk, thereby earning him the nickname: Rocky Lepew :) As you can see by his pic, he's very happy. Thank you for providing him safety when he needed it the most!
Sincerely, Cheri
Thank you for introducing us to Landon. We adopted the little Jack Russel one year ago, and he has been a wonderful addition to our family. Landon is energetic and affectionate, and enjoys cuddling. He loves going on camping trips, hiking, running, and playing fetch. Landon is a very quick study and did really well in obedience training. He has learned a variety of tricks, including sit, lay, shake, rollover, and play dead. Landon can always be found sleeping with his girl after a long day.
Sincerely, Chris, Michelle and Dylan
This is Ginger who my mom Thelma, adopted five years ago. She was a wonderful companion for my mother and now lives with me after mom passed away. I was looking for a companion for her and I found wonderful kitten named Thelma. I knew it was a sign that we were meant for each other. I brought her home and gave them time to get acclimated. Sometimes they sleep in the same bed and sometimes sleep across the room but "lil" T a.k.a. Thelma has kept Ginger on her toes. Ginger no longer sleeps all day! Ginger and I never know whether we will find lil T next... in the sink, in a bag, or in the Christmas tree! Thank you so much for a wonderful addition to our family!
Socks in his favorite spot watching tv with his daddy. He is doing well in his new home. He loves to play fetch and cuddle.
Blondie is adjusting very well to her new home. She is a smart girl that already knows most commands and is beginning to walk better on a leash. She follows me as much as she can and gives a lot of kisses. She has even kissed her adopted brother Max.
Hello!
My daughter and I adopted a dog from your shelter about two months ago. It was the tiny black and white fox terrier mix named Buddy.
I promised that I would let you know how it was going. We are so blessed because we are in love with him! He has spunk yet is a lap dog and a true loyal companion. He loves car rides and laying in the sunshine. He makes us laugh as every night around 6 pm he runs like crazy through the house for about two minutes... jumping like a jack rabbit too. Then stops.... jumps into my husbands chair and falls asleep. My husband and son also adore him. We all want to clone Buddy so we have him forever. He is spoiled for sure!
Thank you for the work you do.
Respectfully, Dawn
We adopted Molly, a one year old Beagle Rescue from Tennessee about 10 days ago. She is so precious and cute. We have been house training her. She is smart and a quick learner. She has settled in nicely. What a wonderful addition to our family. We lost our beagle Buddy over two months ago. Thank you VFA and Petfinder for listing her.
Willie (Bolt) was abandoned and even returned back to your shelter once because he was deemed too hyper and a little wild. When we got him he was very energetic, a little aggressive, and he was a challenge!!! We wondered a couple of times if we had made the right decision to bring him into our family. We have an elderly beagle (who was also returned to you twice I think!) that we adopted from you in 2009 and two cats. We worried that he wouldn't adapt, but as you can see from the above picture he has fit in just fine. It just took a little patience and a lot of love! He is actually quite the cat lover, and a bit of a mommas boy!!! Even though he's a little big, he has become my lap dog. I just wanted to thank you for two very important members of my family.
This is Simon. I came into the shelter as more of a treat for my children, and I had also been looking for a dog or an older cat. This little kitten just melted into my arms and after leaving the shelter, I couldn't stop thinking about him. We couldn't be happier with him! He was marked as a cat that needed to be around calm dogs, but now he wrestles with my 200 lb. German Shepherd. He also won over our other cat, who was old and grumpy. They would cuddle and play, something the old one hadn't done in years. Simon chases my three children around and follows me and my husband around like a little duck. He is always making us laugh and greets us every morning when we wake up. He is a perfect fit here and we love him to pieces!
Penny here, a.k.a Prissy, sending you a note from my forever home. I've been here for a month now. Some may have thought I was a nervous dog but really just a bit cautious. I am getting used to all the new experiences and noises. My new home has lots of toys and people to play with. I have been on my best behavior trying to stay out of the garbage and leaving the socks alone. I have been out and about going on hikes on the trails which seems to be the only thing that tires me out. They tell me in April I get to go on vacation. Not sure what that is, because I like it right where I am.
SEAMUS aka BUSTER is adjusting well in his new forever home....doing wonderfully.
I just wanted to send you a few pictures of our "Izzy" (Alias "Zoey") and . We adopted her March 30, 2015. As you can see, she goes everywhere (camping, hiking, car rides). She even has play dates with the neighbor's dog! I said I would never let a dog sleep in my bed...Izzy is now the Queen of our king size bed! She has become a very sweet and gentle pup. After careful research, we think her heritage could be "Dandie Dinmont Terrier".

We love Izzy to the moon and back and would like to thank each one of you for all you do. Merry Christmas and Happy Safe New Year to all of you!! The Kramer's Ontario, New York
I wanted to thank you guys so much for saving little Charlie! Today he came into his forever home and made himself very comfortable. We have decided that a more appropriate name would be Chance and he seems to like it. He has already claimed bed. Thank you for everything you all do!
I wanted to contact you guys and let you know how ruby is doing. My boyfriend and I adopted Ruby a little over a month ago now. She has been the best addition to our family that we could possibly ask for. She loves long walks and loves to cuddle and give kisses. she has been a great addition to our family and we would like to thank you guys for taking care of her while she was there! We will have to come visit soon. Thank you guys again!!
I adopted Spencer (known then as "Gizmo") last year September, and I wanted to let you know that he's doing great. He shares a house with another cat and two dogs, and he has the silliest personality of any animal I've ever owned. I asked the staff to help match me with a cat who liked to play, and that describes Spencer to a T. He can find a toy or game in everything that he sees, and he keeps us laughing nonstop. I want to thank you for bringing him into my life. He's a wonderful addition, and I can't imagine our family without him! Thanks again, Bronwyn
We just wanted to update on our precious adoption from June. Dolly is a joy! She is sweet, gentle,and just a bundle of love. Merry Christmas to you all! And thank you for all you do. Best, Diane and Robert
We just wanted to tell you how much we love our dog, Buffy. We adopted her last November and she has truly become a part of our family. She follows us around everywhere and doesn't like to miss out on anything. Despite her size, she believes that she is a lap dog, which doesn't bother us at all. We are so thankful to have her! The Scinta Family
This is Silvermist. She had been adopted and returned for being " naughty" by another family before we visited the shelter to meet her. She is definitely into everything- but we think she is pretty nice. She has been a part of our family for 5 years. Thank you!
On December 23rd, 2010, I lost my beloved dog of 10 years to cancer. Though I was not ready for another dog, my husband was in February. I went to the shelter and found Smokey. He was laying in his kennel looking sweet and innocent, walked well on a leash, and was a perfect gentleman. Unfortunately, Smokey had been returned after 1 day of being adopted because the owner was afraid of him. Though the shelter was concerned about adopting him out again, with fear he may bite or injure a person or animal (since he clearly was not a fan of other dogs), they decided to give us a chance since I had a long veterinary background. Smokey did, and still does have some behavior issues, but we have loved him every step of the way. He has had some training, but is still bullheaded sometimes. We adopted him with Heartworm, and recently he had a very near death experience, but thanks to my amazing doctor at work, he pulled through all illnesses, and is a normal, healthy dog! Since adopting Smokey, we moved from an apartment to a house in the country where he loves to run, and we also had a baby, who is now 3 years old and his best friend. Through all the dog hair and food he has stolen from us, we have loved him every step of the way and couldn't imagine life without our boy!
This is our boy Max, the most loving dog we have ever encountered. He was a rescue dog from the shelter who we brought him home in May. After much training, patience, and love he is making great progress in our home. He has severe separation anxiety and cannot be crated so we have made modifications to our home and lifestyle. We call him Houdini... as he is full of tricks! He loves his Chocolate Lab brother Flectcher, long walks, and lots of bones to keep him busy!
Bo jangles. About a month ago. He's doing amazing. We love him to pieces. If we get up at night to go to the bathroom he will bark and bark until we love him up even tho he sleeps with us. He wags his tail so hard it goes in circles. We call it a helicopter tail. He is perfect in every way.
We adopted Zoe seven days ago. Lots of love in our house!
It's been almost 6 months since we adopted Chuck, and we just wanted you to know he's doing well and we love him. He's such a nice boy. Sending pictures. Sarah
Thank you volunteers for animals, it has been 3 years since we adopted Anne Marie. I could not ask for a better dog for my little guy. They are joined at the hip. We will be adopting another one soon.
Waking up and seeing Olivers face!
Jack is the sweetest addition to our big family! Thank you!
Still loving this little pup one year after adoption!
Just in case anybody was wondering how Elliott is doing.... He's claimed his spot on the couch and he loves his people! And his people love him too!
Sasha in her new home!!!! How sweet. We are so happy for you Sasha.
I got Rowan from you guys almost four years ago. At first I couldn't get her to come out from under the furniture, now she sleeps by my side every night. Thank you for taking care of my fur baby while you had her!